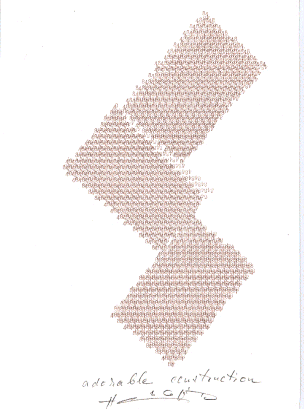 Henri Chopin
Henri Chopin performing at the 11th International
Sound Poetry Festival, Toronto, 1978. Photos by Larry Wendt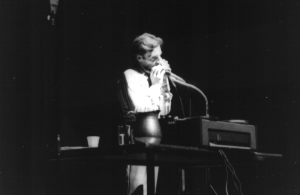 . Beginning in the late fifties, Henri Chopin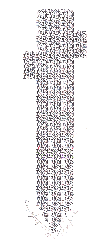 created on the tape recorder, multilayered works for 'vocal micro-particles' and 'buccal instances' which he called poésie sonore. One of the originals, Chopin has also been a primary supporter of sound poetry in the world since that time. He published the first review in France devoted to audiopoems as an art with his Cinquième Saison (nineteen issues from 1958 to 1961), and he did the first international review on sound poetry with his Review OU (thirteen issues between 1964 to 1972). OU was a unique assemblage of concrete poetry, manifestoes, objects of art, and records (eleven in all) containing the works of many of the major practitioners of electro-acoustic poetry of that period. He is also responsible in 1990 of getting poésie sonore in the Encyclopaedia universalis, the great French literary atlas.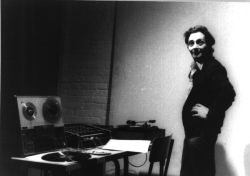 While experimenting with visual poetry and other more traditional avant-garde forms, Chopin discovered the unique potentials of the tape recorder. With such a device, he reasoned, the poem no longer needed to be entombed within the confines of the page. He was not so much seeking the 'word made flesh' like some poets, but rather he was looking for the 'flesh which is sound': the poetic utterance stripped down to its bare essentials like the indigestible 'stone' from a piece of fruit. A rendered articulation which exists starkly, ready to blossom into a wild and tangled celebration of its own existence as an act of shear human power.
---
Some other material by and about Henri Chopin:
'Henri Chopin Interviewed by Nicholas Zurbrugg,' in Art & Design No. 45: The Multimedia Text (London: Academy Group Ltd., 1995), pp. 20-31.
Henri Chopin, 'le souffle et la langue,' on Leonardo Music Journal CD Series Volume 3 (Cambridge, MA: The MIT Press, 1993).
Henri Chopin, les 9 saintes-phonies: a retrospective (Amsterdam: Staalplaat STCD 070/Korm Plastics KP 4694, 1994). Compilation curated by John Hudak, and contains an interview of Chopin done by Hudak in 1990, as well as essays about Chopin by Hugh Davies, Sten Hanson, Larry Wendt, and Nicholas Zurbrugg.
Henri Chopin and Paul Zumthor, Les Riches Heures de l'Alphabet (Paris: Edition Traversière, 1992). A review. on the Web exists.
Marc Battier and Henri Chopin, Transparence: Marc Battier on an audiopoem by Henri Chopin (Paris: Bond Age CD BRCD 9595, 1995).
Larry Wendt, 'Henri Chopin and Sound Poetry,' furnitures no. 10 (St. Paul: Mark Nowak, 1993).
Nicholas Zurbrugg, curator & ed., Henri Chopin (Queensland: Queensland College of Art, 1992). Exhibit catalog for Chopin retrospective held in Australia.
Henri Chopin, Poesie Sonore (Brussels: IGLOO-CARMEL LP, IGL 013, 1983).
Henri Chopin, Audiopoems, (Naples: Edizioni Lotta Poetica & Studio Morra LP, Radiotaxi No. 3, n.d.)
Henri Chopin, audiopoems (London: Tangent Records LP, TGS 106, 1969).
OU /Cinquième Saison / Revue-Disque, edited and published by Henri Chopin (Sceaux on the Seine, Frances and Ingatestone, England).
OU Record Contents:


No. 20-21(1964): Brion Gysin, Henri Chopin, Bernard Heidsieck.
No. 23-24 (1965): François Dufrêne, Mimmo Rotella, Bernard Heidsieck, Brion Gysin, Henri Chopin.
No. 26-27 (1966): Bernard Heidsieck, Henri Chopin, Raoul Hausmann.
No. 28-29 (n. d.): François Dufrêne, Paul de Vree, Henri Chopin.
No. 30-31 (n. d.): Henri Chopin.
No. 33 (c. 1968): Bernard Heidsieck, François Dufrêne, Gil J. Wolman, Henri Chopin.
No. 34-35 (n. d.): François Dufrêne, Bob Cobbing, Henri Chopin.
No. 36-37 (1970): Ladislav Novak, Hugh Davis, Sten Hanson, Henri Chopin, Bernard Heidsieck.
No. 38-39 (n. d.): Henri Chopin, Bengt Emil Johnson, Sten Hanson, Jacques Bekaert.
No. 40-41 (1972): J. A. de Silva, William Burroughs, Brion Gysin, Bernard Heidsieck, Henri Chopin.
No. 42-43-44 (1974): William Burroughs, Åke Hodell, Charles Amirkhanian, Ladislav Novak, Henri Chopin.
---

Last Modified 28 October 1998