Bob Cobbing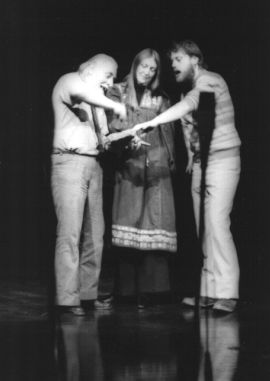 Konkrete Canticle 'performing' a rock at the
11th International Sound Poetry Festival, Toronto, 1978
Photo by Larry Wendt..
Bob Cobbing was the first explorer of sound poetry in England and a long-time experimenter in visual and performance poetry. His activities beginning with the Hendon Experimental Art Club in 1951 eventually grew into his press, Writers Forum which began publishing in 1963. Within ten years he produced over a hundred small press publications of experimental writing with hardly no budget. His weekly Experimental Poetry Workshop and numerous performances of his own poetry, influenced a whole generation of English experimental poets.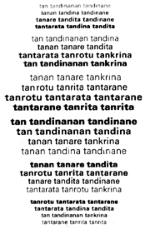 tan tandinane

His works in the visual, sonic and performance medias are extensive, widely varied and difficult to classify. Much of it is based around the idea of the world being alive with messages, which can sympathetically provoke a paroxysmal dance of the vocal chords.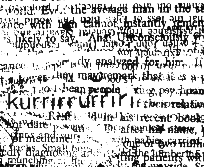 Anything can act as a score, a cue-sheet to guide the voice and the body, whether it be marks on paper, the pattern on a leaf, a printed circuit board, or the textures of a stone -- it is all text to be read by Cobbing: Visual poetry is the plan, sound poetry the impulse; visual poetry the score and sound poetry your actual music for dancing [1].

Detail from kurrirrurriri (1967)
Cobbing had done several sound poetry pieces using the tape recorder in sixties and seventies, and thought considerably about the ramifications of his experiments as he wrote in 1971:
We are aided in our search by sophisticated instruments, the tape-recorder. Our human voices extend the range of the tape-recorder's abilities by their demands upon it. Conversely, the tape-recorder's treatment of the voice teaches the human new tricks of rhythms and tone, power and subtlety. In tonal and thematic terms are opened out solid, liquid, gas. We are in a position to claim a poetry which is musical and abstract; but, however hard we try to do so can we escape our intellect? In an article like this, no; but in the poetry of pure sound yes. Some of the pioneers of sound poetry, notably Henri Chopin and François Dufrêne, have transcended intellect, celebrated reunion with music and entered already the age of gas.
Materials are the micro-particles of the human voice which amplified, possibly transposed in speed or pitch, superimposed one, two or many times, treated perhaps with filter echo or chopper, shaped maybe by editing, result in a piece no naked voice could achieve; though I can conceive of a choir of voices which might attain to similar flights. In fact, the great debate among sound poets at present relates to how much one can release from the unaided human voice and how little or how much electronic treatment is wise or necessary... [2]
In his later years, Cobbing discarded the use of tape in his live performances and became a strong practitioner in acoustical techniques which he felt had a far more resonant and richer articulatory control over the sonic aspects of expression than anything that one could gain by performing with tape or electro-acoustic devices. Typical of the acoustic practitioners of sound poetry, he is also a strong proponent of 'a choir of voices' in performance. The Konkrete Canticle, one of his more well-known groups, was formed in 1971 and included Paula Claire and Michael Chant (and later Bill Griffith). He has toured and performed with several other sound poets and improvisatory musicians since that time. Most recently he is touring and recording material with musician Hugh Metcalfe.
---
References:
1. Bob Cobbing, 'Music for Dancing.' Stereo Headphones No. 4; edited by Nicholas Zurbrugg (Suffolk, England: Zurbrugg, 1971).
2. Bob Cobbing, 'Poetry for a new age,' KROKLOK 2 (London: Writers Forum, September, 1971).

Other publications of interest:
'Bob Cobbing Interviewed by Nicholas Zurbrugg,' in Art & Design No. 45: The Multimedia Text (London: Academy Group Ltd., 1995), pp. 32-37.
Bob Cobbing, KROKLOK, with dom silverster houédad and Peter Mayer as editors (London: Writers Forum). A journal of historical and contemporary sound poetry texts. There were four issues: No. 1 (1971), no. 2 (Sept. 1971), no. 3 (Dec. 1972), and no. 4 (n. d.).
Bob Cobbing, Sound Poems (also known as the A B C in Sound) and Ernst Jandl, Sprechgedichte (London: Writers Forum Record No. 1, September 1965). From material produced at the BBC.
Peter Mayer, ed., Bob Cobbing & Writers Forum (Sunderland: Ceolfrith Press, Ceolfrith 26, October 1974). Catalog for a Bob Cobbing and Writers Forum Retrospective Exhibition at the Sunderland Arts Centre in 1974.
Konkrete Canticle, Experiments in Disintegrating Language (London: Arts Council of Great Britain, 1971). An lp of works performed by Konkrete Canticle written by Charles Verey, Neils Mills, Thomas A. Clark, Paula Claire, Michael Chant and Bob Cobbing.
---
Images::
kurrirrurriri detail is from GLOUP and WOUP, edited & introduced by Bob Cobbing (Kent, England: Arc Publications, 1974).
tan tandinane and 'm are from Bob Cobbing, Six Sound Poems (London: Writers Forum Folder number 4, fourth edition, 1972 [1968]).
---

Last Modified 20 January 1998