FLUXUS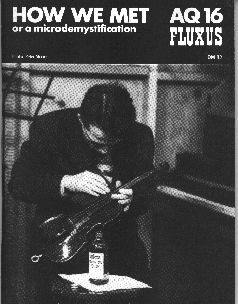 An extensive amount of material has been written about FLUXUS in recent years [1] and a Web site is also available. The history of this movement has several alternate versions, which include a group of New York art students in the fifties experimenting with chance techniques and resurrecting the past traditions of such experiments. Many of them were involved with John Cage's Experimental Music Class held The New School for Social Research in Greenwich Village 1958-1960. Besides the students, Cage also invited performance poets and artists who were doing work which he found interesting to participate in the classes. Such people as Jackson MacLow, George Brecht, Toshi Ichiyanagi, Al Hanson, and Allen Kaprow were invited.
Many of them continued the course at composer's Richard Maxfield's house as an electronic music course after Cage ended the course. La Monte Young came to New York from California to enroll in it as part of his graduate studies. Also, Terry Riley, Terry Jennings, and Dennis Johnson participated in the course, and together the originated what they then called 'static music' which eventually became known as minimal music.
Polymath poet/composer/theorist/ playwright Dick Higgins has said of early FLUXUS:
The principle ideas we came to share, mainly through Cage, were derived from Zen Buddhism, the I Ching, Erik Satie, and Marcel Duchamp... Many also favored the 'time structure' or 'temporal collage' method of composing musical and other temporal artworks, such as poems, plays, dances, happenings, and simultaneities.
From the composer Erik Satie they got through Cage a style of working which was characterized by the abrupt juxtaposition of contrasting and often mutually disparate passages without transitions between them. Performance artist Henry Flynt, described their work as 'Concept Art' in which the material which made up their art were concepts: Since 'concepts' are closely bound up with language, concept art is a kind of art of which the material is language.
FLUXUS is also an invention of George Maciunas graphic artist, gallery director and small time entrepreneur. In 1960, La Monte Young had been asked to guest-edit an issue of a literary journal, Beatitude East, and it was to include 'concept art' and anything else he thought was important. One thing lead to another and the collection became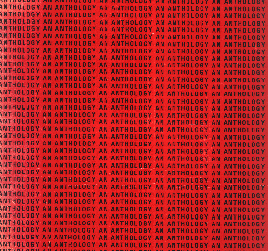 AN ANTHOLOGY of chance operations concept art anti-art indeterminacy improvisation meaningless work natural disasters plans of action stories diagrams Music poetry essays dance constructions mathematics compositions, BY GEORGE BRECHT, CLAUS BREMER, EARLE BROWN, JOSEPH BYRD, JOHN CAGE, DAVID DEGENER, WALTER DE MARIA, HENRY FLYNT, YOKO ONO, DICK HIGGINS, TOSHI ICHIYANAGI, TERRY JENNINGS, DENNIS, DING DONG, RAY JOHNSON, JACKSON MAC LOW, RICHARD MAXFIELD, ROBERT MORRIS, SIMONE MORRIS, NAM JUNE PAIK, TERRY RILEY, DITER ROT, JAMES WARING, EMMETT WILLIAMS, CHRISTIAN WOLFF, LA MONTE YOUNG/LA MONTE YOUNG - EDITOR/GEORGE MACIUNAS - DESIGNER.
Maciunas supplied the paper, design, and some money for publishing of the anthology which contained a more or less arbitrary association of New York avant garde artists at that time. By the end of 1961 before the anthology was completed (it was finally published in 1963 by Jackson MacLow and La Monte Young), Maciunas had moved to Germany to escape his creditors. From there, he continued his contact with the New York artists and sent out announcements about a series of "yearbooks" of artists works under the title of FLUXUS [2]. The "yearbooks" eventually became the FLUXUS "newspaper" V TRE. Maciunas arranged a series of concerts starting in 1962 bringing many of the New York artists whose work had been selected for AN ANTHOLOGY to come to Europe and performing with such avant-gardists there as Joseph Beuys of Germany and Bengt af Klintberg of Sweden. Even though who and who was not in FLUXUS at any specific moment was dependent upon Maciunas' somewhat volatile mood, these European concerts provided a great deal of cross-cultural influence within the international community of experimental artists of that time. The FLUXUS concerts at Fylkingen were particularly influential as a precursor to text-sound composition [3]. Their activities also had a significant influence on a number of other poets working with sound in Europe such as Bernard Heidsieck in France and Gerhard Rühm in Germany.
---
Notes and References:
1. There is a detailed essay by Jackson MacLow about the beginnings of FLUXUS, "Wie George Maciunas die New Yorker Avantgarde kennenlernte" in the catalog 1962 WiesbadenFLUXUX 1982 (Berlin: Harlekin Art, 1983) which is also printed in English.
2. To purge, A fluid discharge, esp. an excessive discharge, from the bowels or other part. A continuous moving on or passing, as of a flowing stream, a stream; copious flow, the setting of the tide toward the shore, Any substance or mixture, as silicates, limestone and fluorite, used to provide fusion, esp. the fusion of metals or minerals. Maciunas' definition from MacLow, p. 116.
3. In Sweden, the text-sound composers-to-be took part in various fluxus and happening like activities from about 1960 on. Fylkingen was one of the focal points, and it was there that Lars-Gunnar Bodin organized Sweden's first major happening, while Bengt af Klintberg put on a number of events in which Sten Hanson and Åke Hodell participated. From Sten Hanson's "Text-sound composition during the sixties: The Evolution of a Genre" in Literally Speaking edited by Teddy Hultberg (Sweden: Bo Ejeby Edition, 1993)
---

Last Modified 20 January 1998