Also known as Anner.
Jeanne Miller lists him as a member of the 1853 Hagans-Cockrill wagon train. However, his published biography (below) indicates that he came to California during the earlier Cockrill immigration of 1851, and nothing is said about his possible return for the 1853 trip.
From biography in History of Mendocino County, California, by Lyman L. Palmer (San Francisco: Alley, Bowen & Co., 1880) page 528, 645-646: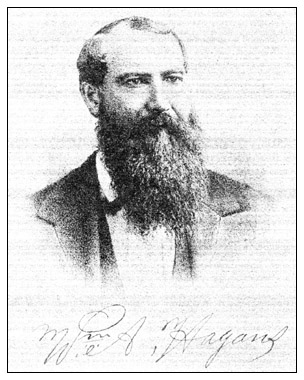 William A. Hagans, whose portrait will be found in this history, was born in Fulton county, Illinois, March 22, 1832. When about eight years of age he, with his parents, moved into Bates county, Missouri, where they resided on a farm until 1851, when they crossed the plains to California. The father and one son had come to this State in 1849 and at the time the subject of this sketch came, he was accompanied by his mother, two brothers and one sister. The father and brother met them at the Sink of the Humboldt and returned with them, arriving at Sacramento September 17, 1851. They all stayed on a ranch which the father had previously bought, located in Yolo county, about twelve miles from Sacramento, until January, 1852, when they moved to Sonoma county and settled near Sebastopol. Here they followed farming, stock-raising, and dairying, for about one year; then moved upon a ranch about five miles from Petaluma. In August, 1855, the subject of this sketch, settled by himself on a ranch located on Mark West creek, about five miles above the old adobe house, where he followed stock raising and dairying until 1863, when he came to Mendocino county and brought a half interest in the Ukiah hotel, of his widowed sister. He took charge of the house until 1868, then settled on a farm about one mile below Ukiah, where he farmed for one year, then leased the Fountain House, which is located on the old road leading from Ukiah to Cloverdale. This house he conducted for two years, then, in company with a brother, E. B. Hagans, engaged in wool-growing in Lake county, where he remained about five years. He then, in November, 1876, returned to Mendocino county and brought the remaining interest in the Ukiah Hotel, which he has since conducted. His father is now living with him, while his mother died, December 25, 1874. Mr. Hagans married, January 9, 1865, Miss Miranda Case. By this marriage they have had one child, now dead.